And if you missed previous entries, here's some links to help you along the way:
#60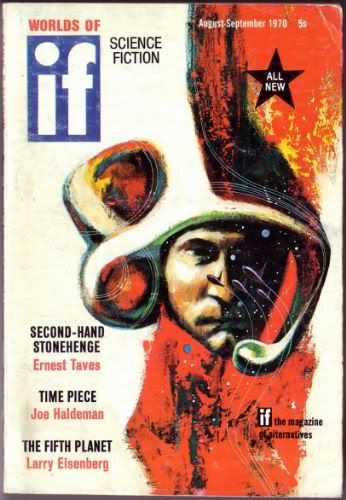 Name:
If
Issue:
August/September 1970
Cover artist:
Jack Gaughan
Reason it rocks:
Much like the
If
that is
#98 in my list
, this one has a purposely incomplete feel to it. You can obviously make out a head, an astronaut's helmet perhaps, but other than that, no idea what's going on here. Love the red, love the usage of white space.
#59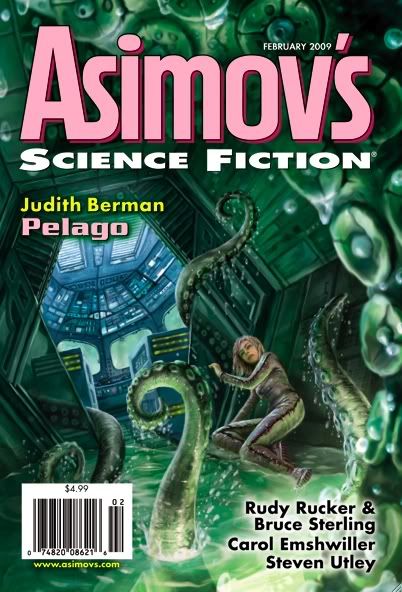 Name:
Asimov's Science Fiction
Issue:
February 2009
Cover artist:
Unknown
Reason it rocks:
What, a recent issue of
Asimov's
making the list? Sure, why not. The POV in this one is fantastic, and the slithering tentacle up the right side is slightly blurry, as if to suggest we're seeing this through a lens. Eerie, but you can't go wrong with spaceship green in my opinion.
#58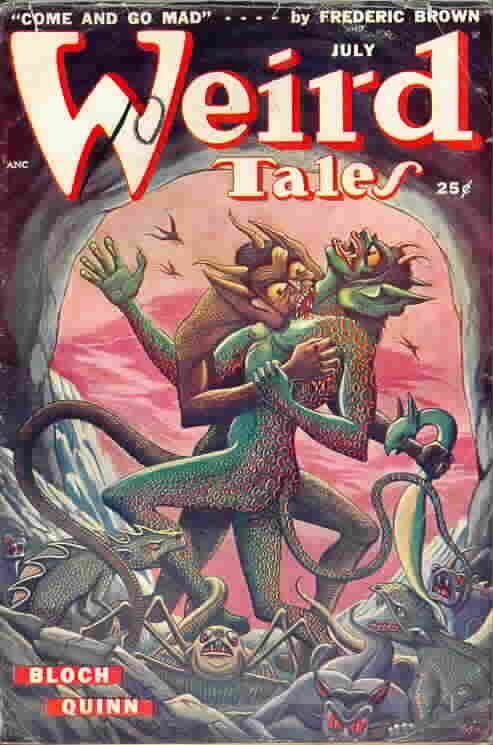 Name:
Weird Tales
Issue:
July 1949
Cover artist:
Matt Fox
Reason it rocks:
I can't really pinpoint why I love this cover so much, but I smirk every time I look at it. Including right now. And now. And now. And now…
#57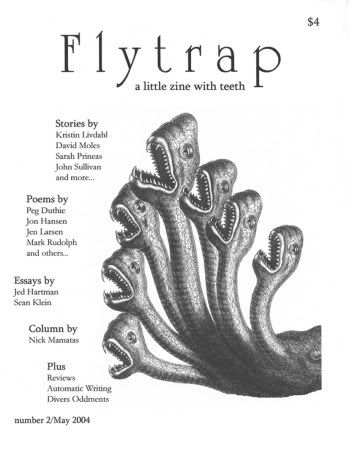 Name:
Flytrap
Issue:
#2
Cover artist:
Unknown
Reason it rocks:
The "little zine with teeth" may have gone under after a number of issues, but this cover goes to show that, so long as there's an interesting and pleasing image, something to grab attention, you need not worry about much else. No crazy backgrounds, just a weird hydra plant monster
thing
, and you're good to go. Alas, the two issues after this went with boring scenery. Should of stuck with Tim Burton monsters.
#56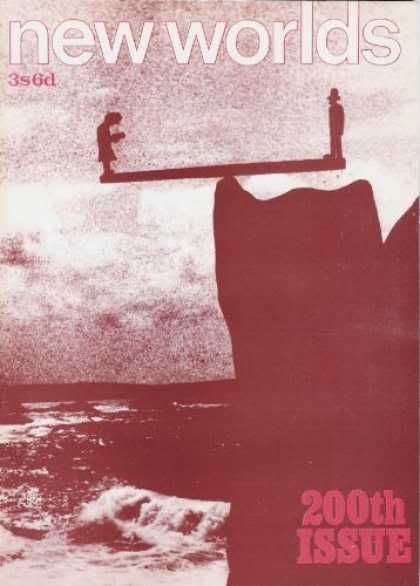 Name:
New Worlds
Issue:
#200
Cover artist:
Unknown
Reason it rocks:
The photograph is a story, a story you're supposed to unravel for yourself. Much like the two people on this teeter-totter, it can go either way.
#55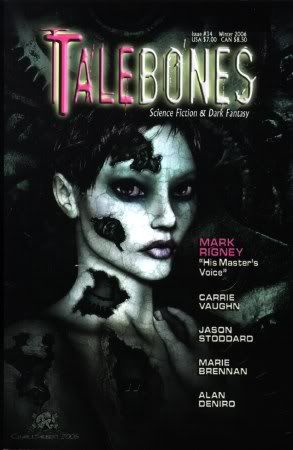 Name:
Talebones
Issue:
#34
Cover artist:
Unknown
Reason it rocks:
Shrouded in darkness, the woman's condition is uncertain. Is she dead? Is she burnt? Is she even a woman, maybe a synthetic doll? Her icy stare says, "Buy me and find out." Well, I'm sure there was no answer inside the magazine's pages, but still…point proven.
#54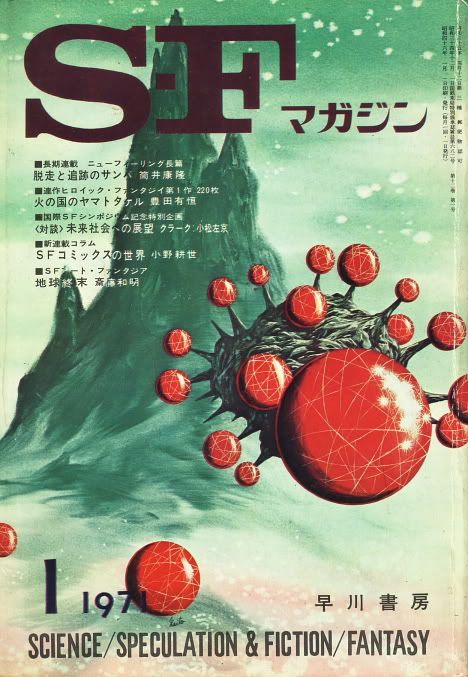 Name:
SF Magazine
Issue:
#1
, 1971
Cover artist:
Unknown
Reason it rocks:
SF Magazine
is a popular science fiction magazine in Japan. And with covers like this, it is clear why. Like a still from a Hayao Miyazaki film.
#53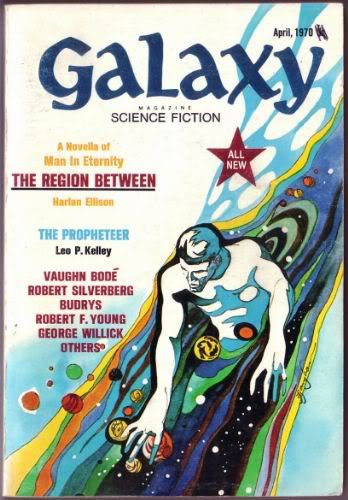 Name:
Galaxy
Issue:
April 1970
Cover artist:
Jack Gaughan
Reason it rocks:
Can I just say that I'm sad to only be now discovering Jack Gaughan's work? I mean, look at this. It's colorful, it's bold, it's playful—and it's not at all a typical piece of cover art. But it works for me, on so many levels. The thick outline of the Silver Surfer guy really gives him the wipe of emerging from space into…wherever he is now. As the LOLcats say, "MOAR GAUGHAN PLZ."
#52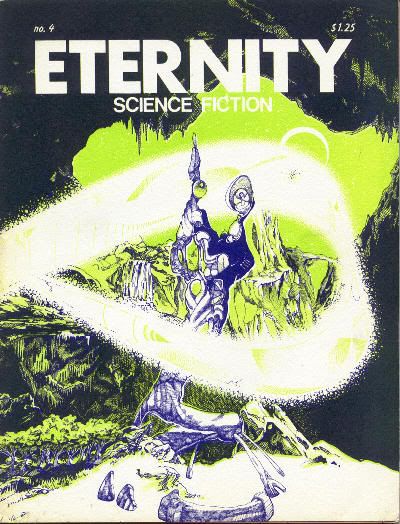 Name:
Eternity Science Fiction
Issue:
#4
, 1975
Cover artist:
Unknown
Reason it rocks:
Here's a magazine that didn't last very long back in the early 1970s, but managed to get some big name contributors like Roger Zelazny and Orson Scott Card. Most of the covers failed to impress, but this one is worth ogling because it is not exactly clear what we're looking at. Plus, as I've previously mentioned, spaceship greeeeeen.
#51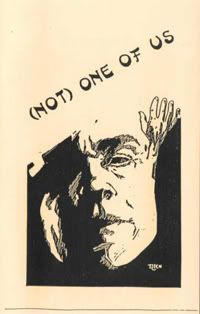 Name:
Not One of Us
Issue:
#1
, October 1986
Cover artist:
Unknown
Reason it rocks:
Nice use of negative space, and I totally didn't catch the hand on my first glance. If a magazine cover makes you look twice, then it's doing a great job. I've tried to find more covers from this magazine to look at, but their website is pretty bare bones. A shame, as I'd love to see how they've evolved from here.
I wonder how long it'll take me to finish this...I should hurry up because the covers I'm saving for the top ten are absolutely
killer
. We'll see...
Clearly, no one is sitting at the bottom of their showers crying over the fact that this list hasn't been updated since the end of August, but that's okay. I'm used to not having an impact on anyone. I'll still venture forth nonetheless.
Current Mood:

worried

Current Music:

Weezer - "Pink Triangle"