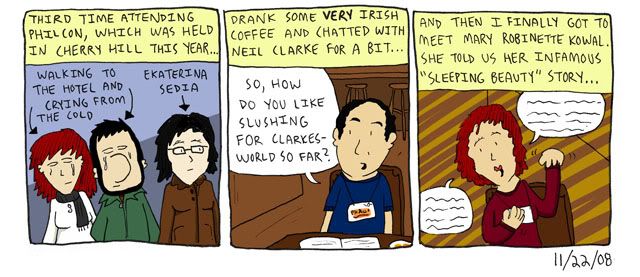 Oh, and there was a ninja there, too.
Ekaterina Sedia, Neil Clarke, and Mary Robinette Kowal are all wonderfully nice people–go click their names and check out what they do, for what they do is good stuff. So Philcon was fun again, not that I ever go to experience the con-ish things such as panels and live readings. I'm more of a bar-sitter, a watcher and listener, and it's always nice to catch up with folks.
Granted I still see myself as a minnow with a bad tail and no sense of direction in an ocean of awesomeness at these happenings, but one day, one day I say, someone will get excited over meeting me.
We'll go there, leave this weakness
Don't take this from me
We'll go there, leave this weakness
Cause I have been waiting
- "Mission" by Dispatch